Team UAE EMIRATES nutrition in a grand tour race

by Equipe Enervit


For no fewer than 119 years, the month of July has been dedicated to the Grand Boucle, the greatest cycling event on French soil. But the allure of a stage race also raises many questions and curiosities. Among them is the desire to find out how professional cyclists feed themselves depending on the type of racing and how they recover from their daily exertions.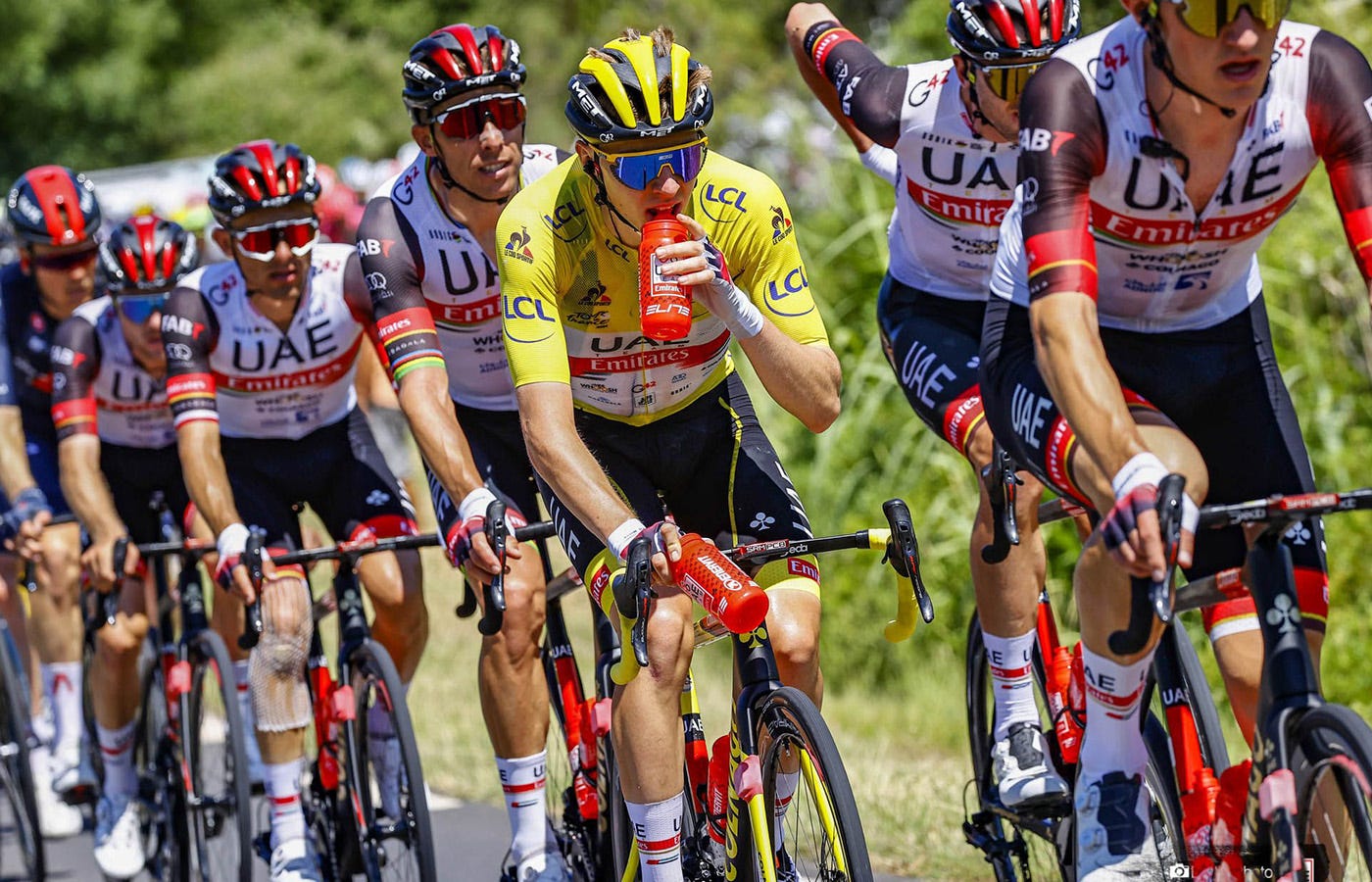 In this article, we will reveal the strategies of Team UAE EMIRATES, the World Tour team that triumphed in the last two editions of the Tour de France with the great Tadej Pogacar, the Slovenian champion who has already made his mark at the this year's Tour de France by taking two stages and the yellow jersey. Joining us to go into the details of sports nutrition and supplementation is Gorka Prieto-Bellver, the team's nutritionist. But first, it's necessary to understand what the energy consumption is for professional cyclists and what amounts of carbohydrates are taken in per hour of exercise.


Energy consumption for professional cyclists

Let's start with a basic assumption: the feats (and efforts) of professionals are unattainable for amateurs. So is the energy consumption, which is far higher for pro cyclists than for amateurs. The pro cyclist develops power that allows him to pedal at high speeds for a time beyond the reach of amateurs, and this requires a huge energy consumption. A scientific study* conducted on a Spanish World Tour team showed three ranges of calorie consumption depending on the type of stage:

- 2500-4000 Kcal (flat)
- 3000-4500 (moderate elevation gain)
- 4000-5500 (high mountains)
On average professional riders can burn about 7500 calories in the most demanding stages (something like two Christmas dinners!). It's fair to wonder how it's possible to assimilate all those calories in a single day.
"It depends on the stage's difficulty," says Gorka Prieto, "because breakfast and recovery are different if the effort is in the mountains or on the flat. In addition, calorie consumption also depends on the stage duration. In the mountains," he continues, "you consume more calories and therefore more carbohydrates. So, at breakfast you will have to consume more carbohydrates balanced with proteins and fats. And then you have to consider that the watts generated by the pros," he concludes, "must correspond to an increase in energy intake, because otherwise you will enter into weight loss. The goal, on the other hand, is to keep the weight as stable as possible over the three weeks of competition."


How many grams of carbohydrates per hour do professionals take in?

Scientific research and the study of how carbohydrates are absorbed during exercise have made it possible to identify the right amounts of carbohydrates that pros need to take in per hour of activity. It's an amount that varies depending on the duration and type of stage. The results show that the average amount of carbohydrates to be consumed per hour of exercise is:

- between 90 and 100 g for a mountain stage
- about 80 g per hour if it's a flat stage
This is confirmed by Team UAE EMIRATES' own nutritionist: "As I said before, a lot depends on the stage you're going to ride. On average you consume between 90 and 100 g of carbohydrates per hour, but there are days when you consume up to 110/120 g per hour. To reach this level and avoid gastrointestinal problems, it's generally necessary to train the digestive system during the preparation period." Prieto concludes, "when you exceed 60 g of glucose per hour, you resort to a mixture of glucose and fructose precisely to avoid digestive problems."


What carbohydrates do professionals take in?

To understand what carbohydrates professionals take in and in what methods, it's worth pointing out that about 90 percent of stage racers take in carbohydrates in both liquid and solid form. Once again, the Spanish nutritionist explains:
"Enervit Isocarb 2:1 is our flagship product, and it's designed precisely to meet the needs of athletes. Basically, we always dissolve 60 g of carbohydrates in a water bottle. Then, to reach the famous 90 to 100 g of carbohydrates per hour, we let the athletes choose between gels and bars. Never consume only supplements, and we prefer that those 20-30 g of carbohydrates per hour that are needed to complete the quota be achieved by alternating them with solid food. For example, small sandwiches or tarts. It always remains a personal choice," Prieto concludes, "I just indicate what's the amount of carbohydrates to take in that particular stage, and the racers manage themselves according to their personal profile and preferences.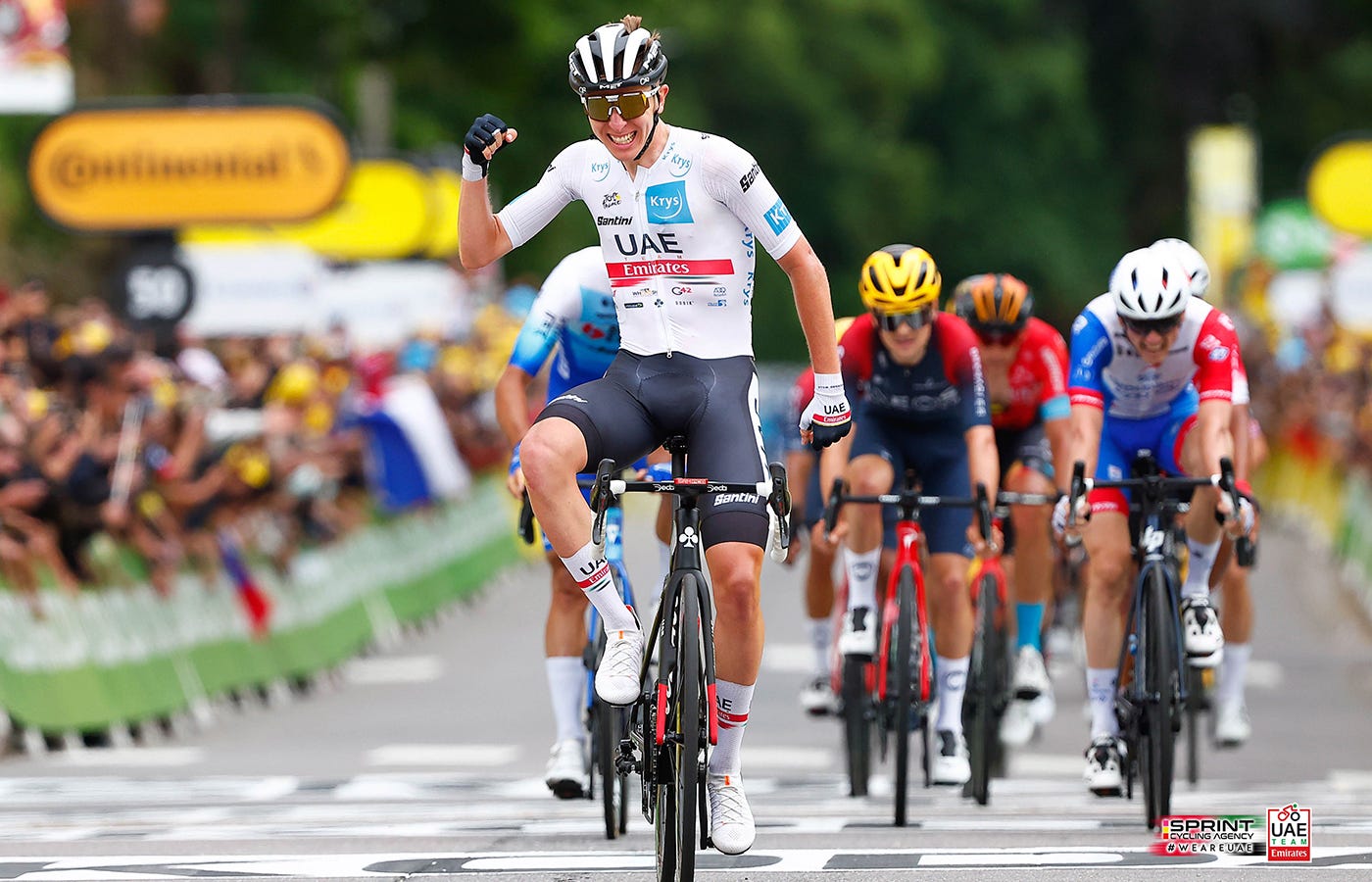 6th July 2022 - Tadej Pogačar wins yellow jersey.
The recovery phase begins immediately after the stage finish

In a 3-week stage race, the recovery phase is even more crucial. For professionals, it starts right after crossing the finish line. You cannot perform at your best without also training and nurturing muscle strength and preparing for the next day's effort. On race days, depending on whether one faces a mountain or flat stage, Team UAE EMIRATES cyclists implement different recovery strategies. It's Gorka Prieto again who tells us what happens at the end of the stage: "It's crucial to start right away to recharge the glycogen reserves depleted during the stage. Basically, our riders take a mix of maltodextrin and whey protein in the 30/10 percentage. We also often give each rider two sachets. On the other hand, if there are lactose intolerant athletes, we use pure whey protein isolate. In the latter case, we mix them with maltodextrin and fructose in a 60:25 ratio precisely to quickly replenish the first glycogen reserves."


The recovery phase also continues at the table

The recovery phase for a professional cyclist competing in a 3-week stage race also continues at the table, but always with a view to balancing macronutrients.
"Even at the table," says Prieto, "the recovery phase is managed by balancing carbohydrates (brown rice or pasta), proteins (beef or chicken), and fats (evo oil). Sometimes we make mixed sandwiches and also leave room for sweets such as banana cakes and blueberry cookies to add more carbohydrates. But only if the stage was particularly challenging.
Then there is another "food" aspect to consider, and that's breakfast in the morning. Considering that the start of each stage is almost always at the end of the morning, the UAE EMIRATES team's breakfast is abundant and complete, with a special focus on the day's stage. "Although the quantities are considerable," says Gorka Prieto, "the principle of balancing macronutrients remains unchanged, with a special eye on the type of stage that will be faced that day. In time trials," he says, "the athletes take two Enervit Pre Sport in the hour before the start, while during the warmup on the rollers, they usually take a gel with an innovative formulation that Enervit created especially for us.
As to the question whether there can be some small exceptions from a dietary point of view during a big race, the nutritionist for Team UAE EMIRATES answers thus, "It's expected, but exclusively on the rest day. We usually prepare some pizza or veal burgers. But even then, we weigh everything. As if to say that 'relaxation is fine but...nothing is left to chance!'"
BIBLIOGRAPHY
*Muros JJ, Sanchez-Muñoz C, Hoyos J, Zabala M. Nutritional Intake and body composition changes in a UCI World Tour cycling team during the Tour of Spain. Eur J Sport Sci. 2019;19:86-94
Jeukendrup, A. E. Nutrition for endurance sports: marathon, triathlon, and road cycling." J Sports Sci 29 Suppl 1: S91-99, 2011.
Jeukendrup, A. (2014). A step towards personalized sports nutrition: carbohydrate intake during exercise." Sports Med 44 Suppl 1: 25-33, 2014.