Trail running and nutrition: advice from Franco Collé

by Equipe Enervit



There are many athletes who have chosen to switch from road running to trail running in recent years, who are often driven by wild enthusiasm and alluring appeal, but also by the mistaken belief that they already have the "kilometres in their legs" to tackle long distances only to find out that this isn't really the case. So, what's the correct way to approach trail running? How does nutrition change before, during, and after a trail running race? How many carbohydrates should you take in per hour of activity?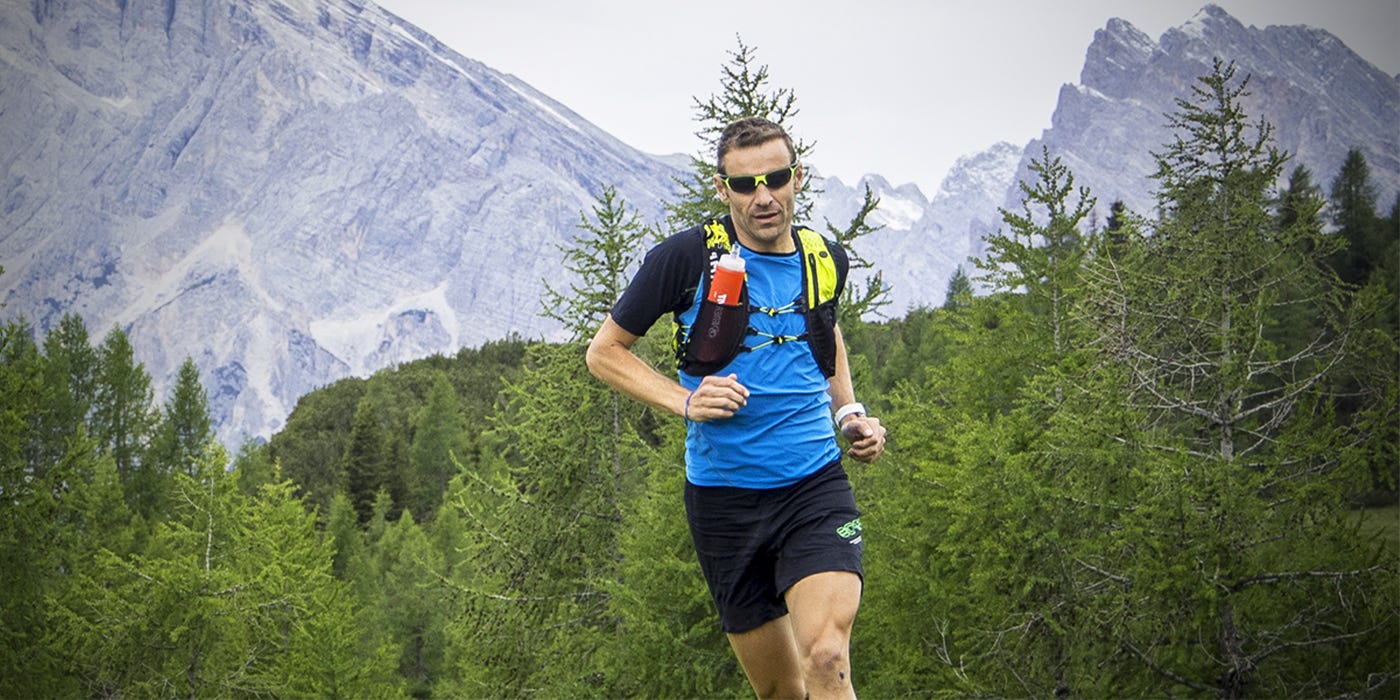 We asked Franco Collé from Valle d'Aosta, an Enervit athlete and two-time winner of the extremely tough Tor des Géants, who will participate in the Monterosa Est Himalayan Trail race at the end of the month by running the 103-km course.

What made you choose Enervit as your nutrition partner?

Definitely the quality and wide range of products. They work well for me, especially in very long races where alternating products is also crucial in terms of taste. And because Enervit takes great care of pre- and especially post-race nutrition, which is a phase that's often overlooked but is essential for recovering from the exertions of a sport like trail running.
How much do nutrition and hydration matter in a long-distance mountain run?

I would say a lot because nutrition and hydration are the fuel for our engine. This is precisely why it's important to train these two key elements well before racing. When I face a long race, for example, I prepare a nutritional training chart in which I plan regular carbohydrate intake according to the race's duration. I never go below 50 g per hour, but it always depends on the type of course. In case of demanding races such as the Tor des Géants, for example, I also take a full meal every 7-8 hours, and I try not to neglect the details. In addition to the products I need for the race, I always carry two extra Isotonic Gels with me, which I store in my emergency kit where I have everything I need to deal with any unforeseen events. In the race's final stretch or at night time, when it's hard to keep my eyes open, I take a Liquid Gel with caffeine for a bigger boost. That's why Enervit's wide product range manages to meet all my needs.

How do you prepare for a trail running race like the MEHT?

Thinking of starting without experience and doing a 100-kilometer race isn't possible. You have to go step by step. Nutrition and supplementation during racing aren't the only factors to consider. There's also nutrition in the days before racing and rest, which is often neglected. And then technical clothing, poles, type of backpack, and sleep, which should average nine hours per night. Crises in a race are always there but that's when the athlete comes out. And if he has prepared well, then he is able to overcome them.
What advice would you give to those who want to approach trail running for the first time?

The first piece of advice is to approach the trail in stages: 15-20 km with a slight elevation gain is more than fine to start. For example, the 22 km and 1700 meters of elevation gain in the Monterosa Est Himalayan Trail race can be a good reference. I start the season around March with short races of 20-30 km and then gradually increase to running races of 300-350 km. People approaching trail running need to think in this perspective of gradualness. By doing so within two years, one can run distances of 100 km. The second tip is to train by alternating running with other sports such as cycling, road or mountain biking, and ski touring.
What do you think are the most common mistakes that trail newbies make due to lack of experience?

So many come to trail running from road running and do so for various reasons. One of the most common mistakes is neglecting distances. Running a marathon on the road does not mean covering the same distance on the trail. You have to be careful about distances and especially elevation changes, but also the type of terrain you are running on. On a trail run you may find yourself alone on a ridge or in the middle of the woods, where sometimes the phone doesn't even pick up. Improvising is never the right choice.


The Enervit Nutrition System® for a 100-kilometer trail running race.

Scientific research has shown that the outcome of an athletic performance is influenced not only by the nutritional strategy one adopts, but also by the eating habits one implements in the months leading up to the race. To translate this evidence into practice and offer athletes a tool that can best support them nutritionally, we've created a dedicated Enervit Nutrition System® that includes multiple phases:

- Carboloading in the days leading up to the race
- Restoring ideal hydration levels
- Recovering energy in the first few minutes after the finish
- Muscle repair
That said, how do we manage a 100-kilometer trail running race from a nutrition and supplementation perspective?
Let's start with the pre-race. The start of a 100-kilometer trail race usually occurs at the crack of dawn. Breakfast should be eaten three hours prior with a base of low-glycaemic-index carbohydrates and a portion of protein. Slices of toast with cow's milk ricotta and jam or some low-fat cold cuts are fine. These contain the insulin stimulus, which has the positive effect of promoting both fat oxidation during the race and saving glycogen. In addition, the advice is to take 400 mg of cocoa flavanols daily, starting the week prior because flavanols improve blood vessel elasticity, thus improving blood flow and promoting normal transport of nutrients and oxygen to the muscles.
In the 30 minutes prior to the start, it's advisable to take low-glycaemic-index carbohydrates. Enervit Pre Sport supports energy availability early on and helps you get off on the right foot in the first few kilometres of the run. You can eat half 60' prior to the start and the remainder 30' prior, along with a few sips of water. And let's not forget fluids: it's essential to drink 200-400 ml of water (depending on the outside temperature) between breakfast and the start to maintain proper hydration. The advice is to consume an isotonic drink based on carbohydrates, minerals, and vitamins, such as Enervit Isotonic Drink.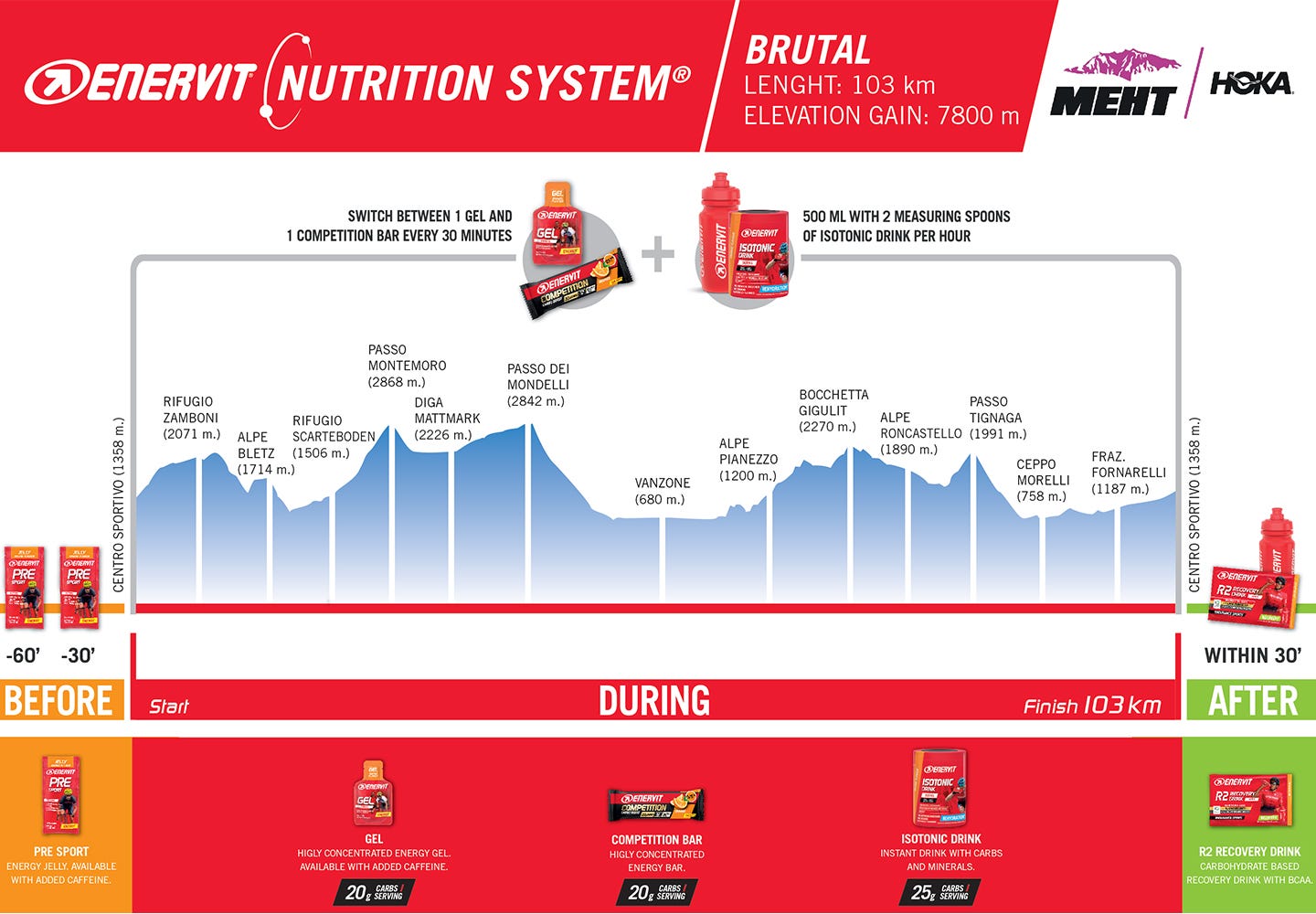 During the race is when you need to be most careful. Two hours after the start, up to 15 percent of total calorie consumption can come from protein – this can be a problem in long races. That's why it's important to add even a small portion of protein to your supplementation, in addition to taking the aforementioned 60 g of carbohydrates per race hour. How to do this? One can resort to protein bars or small sandwiches with cottage cheese or ham. Then, every eight hours or so, it's highly advisable to have a full meal at one of the feed zones along the route. Doing so alternates tastes, which is a crucial aspect in very long races and one that proves vital in order not to lose mental clarity. Finally, consuming isotonic drinks in small sips and on a regular basis ensures constant hydration.
Finally, the recovery phase is the most important – and it must be complete. You need to take in high-glycaemic-index carbohydrates (to restore glycogen stores), amino acids (to prevent the onset of post-race muscle soreness), minerals, vitamins, and glutamine. This must all be done in the first 30 minutes after finishing to optimize the replenishment of glycogen stores and support muscle recovery. Enervit R2 Recovery Drink is the most suitable choice. But recovery must continue in the following hours as well – at the table with balanced meals every four hours that provide carbohydrates, protein, and good fats, and must be combined with rest, with a strong preference for sleep, possibly away from electronic devices.
Learning to train nutrition and supplementation
We know that every athlete responds to exertion differently, especially with regard to gastrointestinal problems. That's why nutrition and supplementation are part of what's known as training the gut. It's advisable to learn to train nutrition and hydration as if you were competing. This habit will lead the gut to work better when it's subjected to intense exertion, such as a 100-kilometer trail running race. The result will be a better predisposition for absorbing carbohydrates and fluids during race hours, resulting in improved performance. Finally, daily supplementation of 2.5 g of Omega 3 RX will help to positively modulate inflammation and oxidative stress.
BIBLIOGRAPHY

Costa RJS, Knechtle B, Tarnopolsky M, Hoffman MD. Nutrition for Ultramarathon Running: Trail, Track, and Road. Int J Sport Nutr Exerc Metab. 2019 Mar 1;29(2):130-140. doi: 10.1123/ijsnem.2018-0255. Epub 2019 Apr 3. PMID: 30943823.
Jeukendrup AE. Training the Gut for Athletes. Sports Med. 2017 Mar;47(Suppl 1):101-110. doi: 10.1007/s40279-017-0690-6. PMID: 28332114; PMCID: PMC5371619.
Davinelli S, Intrieri M, Ali S, Righetti S, Mondazzi L, Scapagnini G, Corbi G. Omega-3 index and AA/EPA ratio as biomarkers of running-related injuries: An observational study in recreational runners. Eur J Sport Sci. 2021 Nov 18:1-9. doi: 10.1080/17461391.2021.1998643. Epub ahead of print. PMID: 34694208.