TRACK WORLD CHAMPIONSHIPS: BLUE GOLD FOR MARTINA FIDANZA IN THE SCRATCH RACE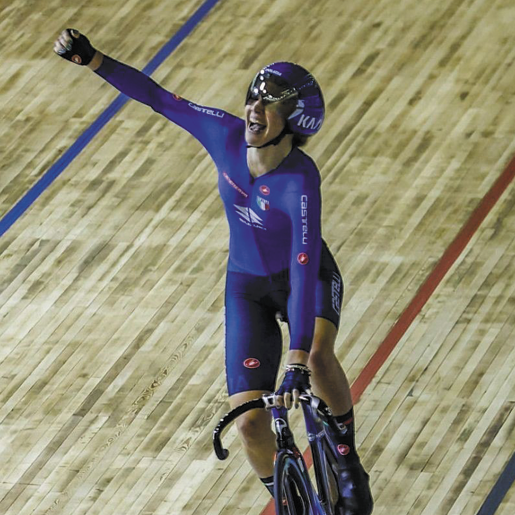 Thursday, October 21, 2021
Roubaix is once again tinged with blue (for Italy) from the victory of a smiling Martina Fidanza, who claimed her first gold medal – and what a gold it was! – in the women's scratch race at the 2021 Track World Championships.
"It certainly wasn't something I thought about at the beginning," she said, barely holding back tears as she got off her bike. "I found myself ahead with four laps to go. Dino told me to push and I pushed hard. It worked out well for me. I can't believe it."
The Italian was adept at defending herself during a race where there weren't any particular attacks, except in the final part. When the Austrian, Eberhardt, tried to attack, the Italian closed the gap. She found herself with a few metres' advantage and, encouraged by CT Salvoldi, she ramped up the pace. She unleashed all her strength in two intense laps. Almost immediately, the chase group was resigned to the pursuit. It was a performance that required high volume energy and concentration. We at Enervit are happy and honoured to be able to celebrate such a great result during a crazy season where we've always been by the side of our blue athletes.
Source: FCI Press Office
Photo credit: @bettiniphoto