EnerZona
Box of 5 flasks of 33,3 ml
Not Available
SKU 92468
Omega 3 fatty acids supplement
- Omega 3 fatty acids
- EPA and DHA in a 2:1 ratio
- Certified by 3 international bodies (IFOS, ORIVO and Friend of the Sea)
- Gluten-free


IFOS 5 star certificate
It certifies the concentration of active ingredients, purity, and quality. EnerZona Omega 3 RX has achieved the highest score: IFOS 5 star
ORIVO Certified
Guarantees the origin and species of the fish: only anchovies from the South Pacific
Certified by Friends of the Sea
Guarantees the eco-sustainability of the production process from the extraction of the oil to its packaging.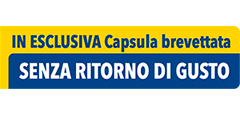 Entericare™ Technology
Capsule with no aftertaste.
The Omega 3 par excellence
Omega 3 are fatty acids defined as ᆴessentialᆵ because our body isn't able to produce them by itself, but they are essential for the many benefits they bring to the body. They take care of the heart, eyesight, and brain, and they help to maintain normal triglyceride levels in the blood and normal blood pressure. Take them through the diet, or in case of reduced intake or increased need, take them through supplementation*.
The supplement in flasks of omega 3 fatty acids, EnerZona Omega3 RX is a product of excellence: highly certified and recognized for its quality and purity. It's a true ally to your daily supplementation.
A daily help for your body
We at EnerZona have long known the properties of omega 3 and our researchers have created a cutting-edge dietary supplement: EnerZona Omega 3 RX Liquid, which helps meet the need for these fatty acids in case of reduced intake or increased need.
To make your intake enjoyable and free of the classic fish oil aftertaste, EnerZona Omega3 RX Liquid is flavoured with a fresh lemon taste.
Use the handy measuring spoon inside to take 1.5 g of EPA and 0.8 g of DHA on a daily basis.

*Supplements should not be taken as a substitute for a varied and balanced diet. It?s recommended to follow a varied and balanced diet and a healthy lifestyle and to follow directions for use and warnings on the label.
| | | |
| --- | --- | --- |
| Nutritional information | 1 measuring spoon | Per 100 g |
| Fat | 4 g | 100 g |
| Saturated fat | 0,06 g | 1,5 g |
| Monounsaturated | 0,44 g | 11,0 g |
| Polyunsaturated | 3,5 g | 87,5 g |
| Omega 3 | 3 g | 75 g |
| EPA | 1,6 g | 40 g |
| DHA | 0,8 g | 20 g |
| other Omega 3 | 0,6 g | 15 g |
Fish oil standardized in Omega 3 (75%) - Lemon flavour - Antioxidants: Vitamin E (tocopherol) (from soy), ascorbyl palmitate, rosemary extract.
Take up to a maximum of one and a half tablespoons per day, depending on your specific EPA and DHA needs (see above). If you follow the Zone dietary strategy, the recommended daily intake is one level tablespoon, which corresponds to about 2.5 g of long-chain omega-3 fatty acids (EPA+ DHA).