FLANDERS 2021: WHAT A WORLD CHAMPIONSHIP FOR ITALY, LEADER IN THE MEDAL COUNT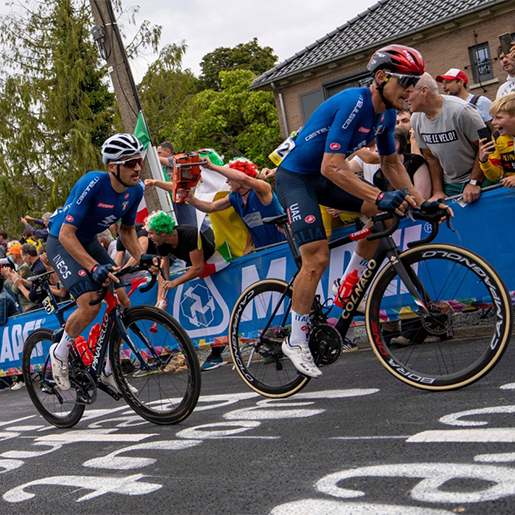 Monday, September 27, 2021
It was a World Championship to remember for regal Italy with three golds and a bronze. It was a team that made our hearts race by giving us unforgettable moments.
Such significant results cannot be improvised; they are the result of sacrifice, dedication, passion, and strategy. We at Enervit couldn't miss out on the chance to proudly support a true dream team. We were there – before, during, and after the World Championship, working alongside the athletes with all our experience and our Enervit Nutrition System®.
Even though victory went to the Frenchman, Julian Alaphilippe, Sonny Colbrelli finished a memorable World Championship in 10th place. Colbrelli was the only one to stay on the wheel of the world champion for most of the race.
In the elite women's race, Elisa Balsamo almost literally made us go crazy with joy owing to her performance, which included a masterful sprint finish. With a smile and unwavering determination, she seized the podium. A flawless team strategy and mighty teammates made the difference.
"With two kilometres to go, our train was formed – I would say, by chance," Balsamo said. "We sorted ourselves and got organized. Longo ordered me to 'grab my wheel and stay there.'"
With 200 metres to go, Longo Borghini went to make a move; the woman from Cuneo looked at her and signalled "No, not yet." She knew that in chase was Marianne Vos, champion of a thousand solo battles, as well as many sprints.
"I was afraid to go too early. Then, near the end and in danger of being overtaken, in order not to make a mistake, I punched it as hard as I could."
Source: FCI Press Office