"Cycling and training are a constant challenge: I made it through my iIlness the same way"



Interview with Michele Grieco, Obiettivo3 Athlete


At the young age of 12 he was diagnosed with a bone tumor in his left leg that forced him to undergo lengthy treatments and to live with a prosthesis. The doctors convinced him he would never be able to practice sports again. Then, in 2018, he met Alex Zanardi and his association, Obiettivo3. It would change his life. He began cycling, and he's never stopped.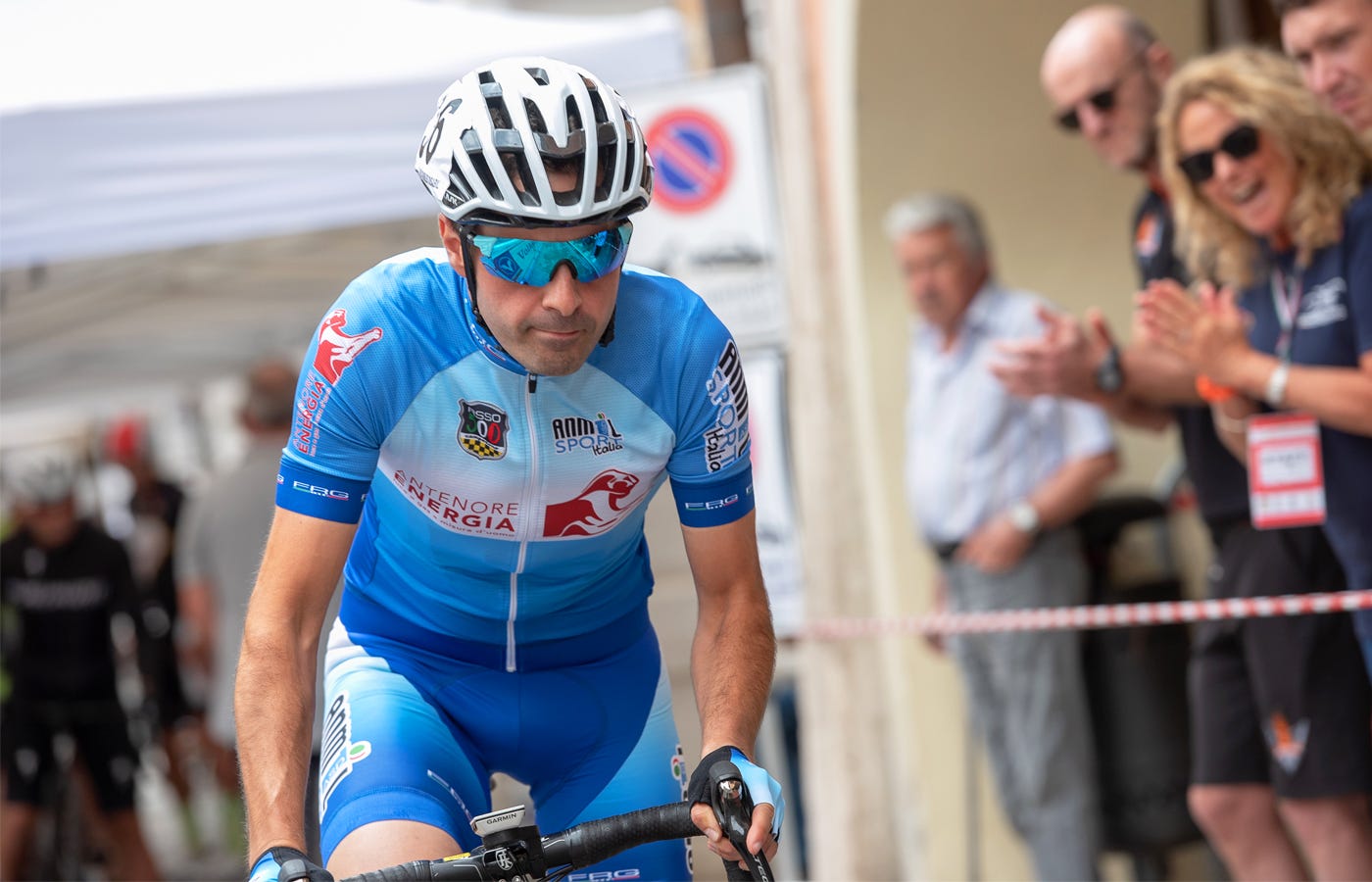 His name is Michele Grieco, born in 1990. On June 18th he'll be taking part, with his special bicycle, in the Sportful Dolomiti Race with its average length of 121 km, the path winding its way through the mountains of Veneto and Trentino, with 3200 meters in altitude.

"Meeting Alex Zanardi changed my life. That's where it all started." With emotion in his voice, Michele describes the day it all began. The day of a fresh start, of rebirth after his illness, the day he realized it really was possible to break through the mental and physical barriers of disability.
"Mine was a strange path," he recalls. "In 2002, barely a teenager, I was diagnosed with a bone tumor in my left leg, which had also spread to the tissue. They removed 60% of the muscle and fit me with a prosthesis, telling me I could never practice sports again. Swimming and cycling yes, but back then I didn't like biking at all. I considered it just a lot of effort. Besides, when you're forced to do something…"
So, Michele gave up the idea of practicing sports, but soon he began to experience pain in his leg. By chance, years later, he happened to watch the documentary "A Forza di Braccia", which told the story of Alex Zanardi as he worked his way up to the Ironman in Kona. "I said to myself, it's really crazy, but if he's without legs and he did it, why can't I do it too? So I started training for the triathlon: swimming, biking and rapid walking, because I couldn't run."

Meanwhile, his wife, Sara, secretly sent in an application to Obiettivo3, an association started by Zanardi that aims to enthuse and engage disabled athletes in practicing sports. "They had us go to Padua," Michele continues, "which I really disliked: that was where I was put through chemotherapy as a child." However, the young man was persuaded. "For someone who has an invisible disability like mine," he says, "it's hard to explain how difficult it is to practice a sport, especially when you're first starting out. Obiettivo3 managed to see my potential. Since that day, I might have skipped a total of five training sessions. Something grew inside me – I don't know what it is, but it makes you keep going. Because passion is a bit like love, it takes you over. You get out there and you pedal. Near the end of every race, when I've got only fifteen kilometers to go, I think, That's it, this is the last one. But then I cross the finish line and I sign up for the next one."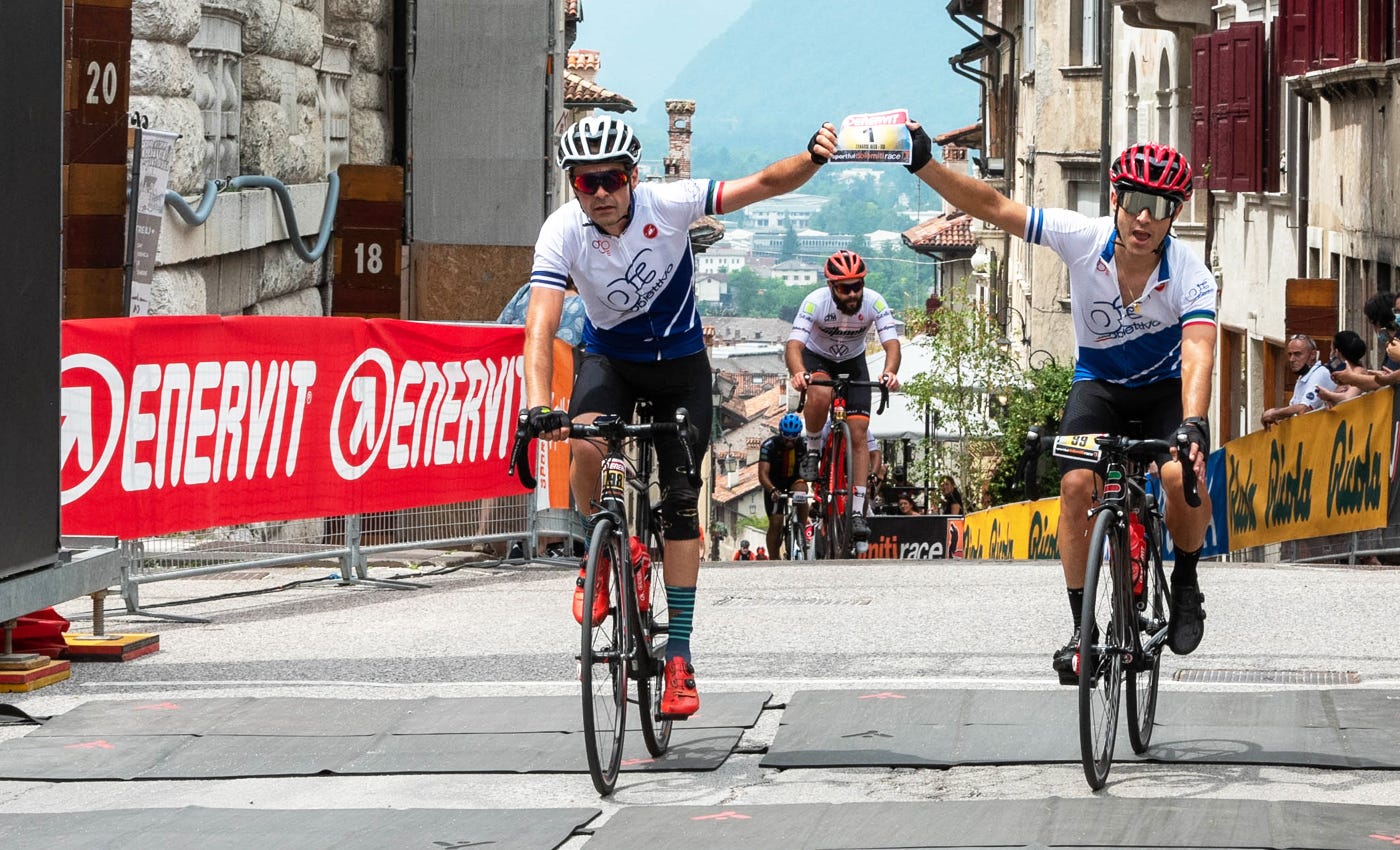 "The biggest lesson I learned from Zanardi? He told me: you can lose everything in life, but in the end you're always left with yourself. There's still something you can do, always. He gave me this faith. Not to succeed in doing it, but to dream it. He made me experience a dream in doing something small. I started out with fifty kilometers by bike. Back then it seemed impossible. Little by little the dream grew, and today I'm hoping to finish the Sportful in under four hours and forty-five minutes, to improve my time. Then, once again, I'll raise the bar: next year I want to do the Ironman again, the one I started with. I've already done three, but in relay. Next time, I intend to get to the finish line all on my own. The goal isn't to win the medal. What keeps you moving is the dream, the path that's led you there, like training."
Passion, but also sacrifice. "I work out six days a week," Michele says, "but they're not all the same. Once in a while there are other things I'd like to be doing, but I know I've got those two hours to do and I need to fit them in. I approach my training with the mindset with which I made it through my illness. Back then, the doctors made me take at it as a challenge. I go there, I do the chemo, I go back after two weeks. Today it's the same thing with training. I get on the bike, it's two hours of effort, a limited time, I can do it. Sure, I like training sessions a whole lot more! Nutrition matters a lot too, not just the quantity but most of all the quality of what you eat. If you want to raise your performance to the maximum you obviously have to keep an eye on your nutrition, which needs to be specific. In this, I also get a lot of help from supplements."
Finally, a piece of advice to young disabled people who are starting out in sports. "When I meet them, I try to pass down to them what I learned with Obiettivo3: we can't change what happened to us. It happened. On the other hand, we can change our reactions, by not looking at what has been but at what we can still do with what we've got."
Good luck, Michele.