Enervit
Sports Bottle Enervit 750ml
Not Available
SKU 98992
The technical water bottle to stay hydrated during the ride
- Light, practical, and functional
- Push-pull valve
- 20% recycled raw material
- Ideal during training
Enervit
Sports Bottle Enervit 750ml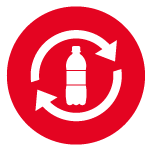 To be recycled with plastic
When it has completed its lifecycle.
Ideal during sport
To stay hydrated while riding.
Free of BPA
Doesn't interfere with the taste of the drink.
Dishwasher safe
Wash it at 55° for maximum cleanliness.
The ideal water bottle for hydration
The ideal water bottle for hydration
Staying hydrated while you work out helps you perform better and feel less fatigue. That's why you should never wait until you're thirsty to drink, or you will have already lost 2% of your body weight in water.
The Enervit 750 ml water bottle is designed to be light, practical, and functional at any time during the ride. Fill it with the ideal drink for your workout and remember to stay hydrated throughout your effort, especially if it?s intense and prolonged.
Why use it in racing and training
Use the Enervit 750 ml water bottle to create your own refreshing carbohydrate and electrolyte drink, and stay hydrated along the way, whether you're racing or training.