EnerZona
Shortbread Balance Raspberry
SKU 93003
Order now! Shipping in 24/48h
The balanced shortbread with raspberries, spelt, Kamut® and soy flour.
- Balanced recipe 40-30-30
- High in protein and fibre
- 100% vegetarian
- Contains only extra virgin olive oil
- Reduction of glycemic responses
- 4 SHORTBREADS = 1 BLOCK
EnerZona
Shortbread Balance Raspberry
Balance 40-30-30
A product designed for those who follow the Zone diet and for those who value a balanced diet.
100% vegetarian
Ideal also for those who follow a vegetarian diet.
With selected ingredients
Whole spelt, Kamut® and soy flour, and extra virgn olive oil.
The EnerZona shortbread biscuits rich in protein with an exclusive recipe
EnerZona Frollini are 40-30-30 balanced shortbread biscuits that are ideal both for those who follow the Zone diet and for those who value a balanced diet, thanks to their perfectly balanced formula of macronutrients (40% of calories come from carbohydrates, 30% from proteins, and the remaining 30% from fats).
They are made from a unique and exclusive recipe. They are 100% vegetarian, high in protein, and are born from the combination of carefully chosen ingredients of the highest quality, such as the mix of select flours and extra virgin olive oil.
EnerZona Frollini Raspberry are fragrant and crunchy, and bring out the light and fresh flavor of raspberries and the genuine taste of grains.


*14% of the starches contained in EnerZona shortbread is made up of resistant starch. The substitution of digestible starches with resistant starch in a meal contributes to reducing the increase in postprandial blood glucose.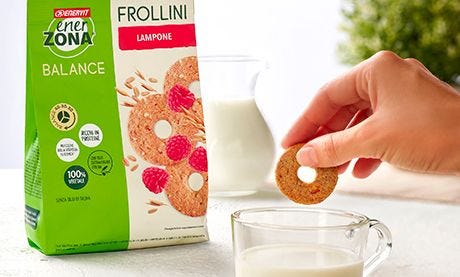 The balanced breakfast to start your day at best 
Having a tasty breakfast balanced in macronutrients is the best way to start your day.
Try EnerZona Frollini Raspberry with hot milk, tea or have them with your morning coffee. Their crumbly texture and intense flavor will enamor you.