Enervit
Protein Bar 26% - Coco-Choco
SKU 99606
The chocolate protein bar for your muscles
- Contains 26% (10g) of protein
- With mix of vitamins and minerals
- With milk chocolate coating
- Gluten-free
- Coco Choco flavour
Enervit
Protein Bar 26% - Coco-Choco
Ideal after sport
Eat it whenever you want, but after training is the ideal time to take it.
Contains milk and soy proteins
Quality protein for maintaining and growing muscle mass.
Enriched with a vitamin-mineral mix
Helps counteract tiredness and fatigue.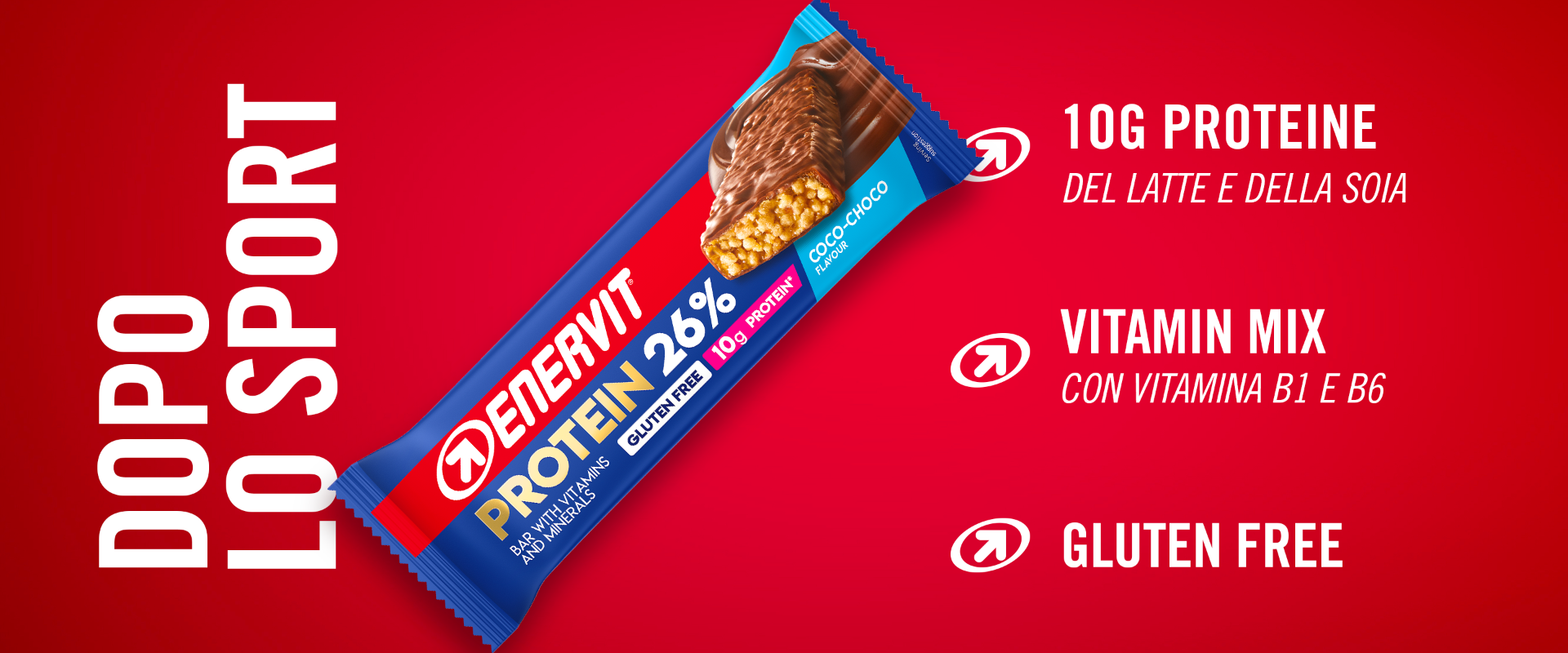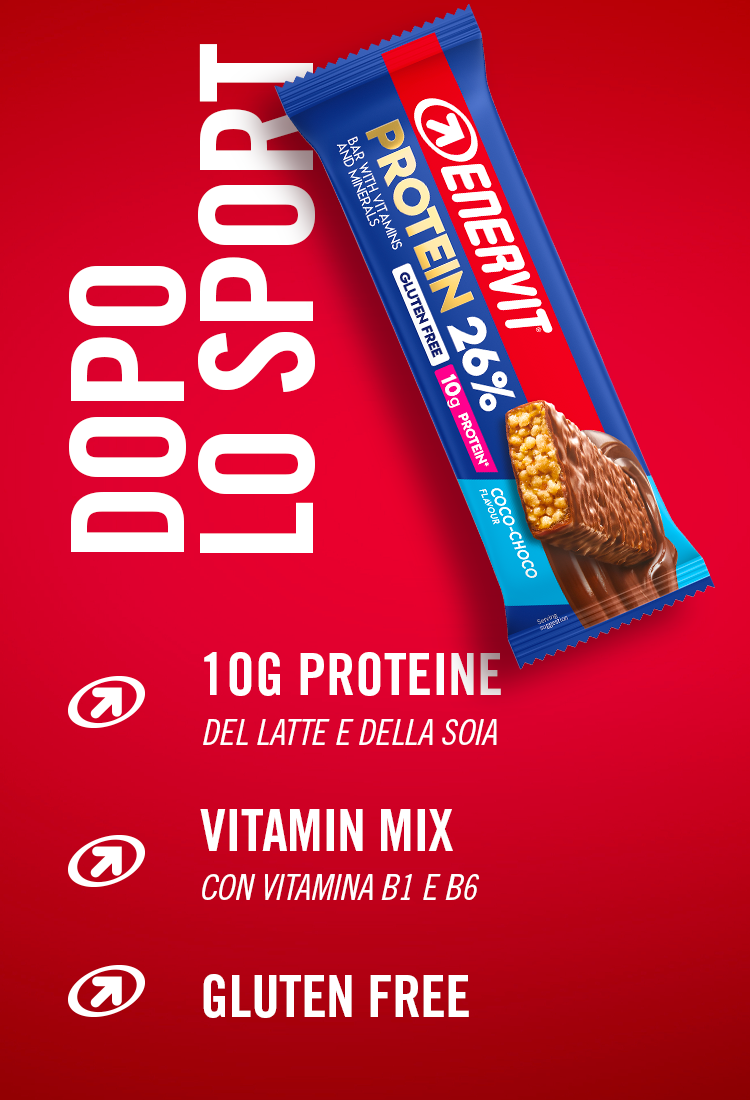 The protein snack for when you finish working out
Reward your muscles at the end of a workout or at any time during the day with protein*. The important thing is to choose only the highest quality protein.
Enervit Protein Bar 26% provides your muscle mass with valuable nutrients thanks to a unique composition based on milk and soy proteins, with vtamins and minerals.
Enervit Protein Bar 26% Coco-Choco is the protein bar that also indulges you with flavour, thanks to its milk chocolate coating and exotic coconut taste.
Contains 10g of milk and soy protein
Contains vitamins** and minerals
Gluten and palm oil free
Why take it
Your muscles need protein* every day in order to grow, so in addition to a balanced diet, you can consume your protein bar whenever you want. If you're working out however, it's best to consume it right after your workout.
Why Enervit Protein Bar 26%? Because it's the protein bar that contains high-quality protein* to help your muscle mass grow, and it's designed to provide you with valuable nutrients, with the added benefit of tasting incredible.

*Protein contributes to the growth and maintenance of muscle mass.
**Vitamin B6 contributes to normal protein and glycogen metabolism and to reducing fatigue and tiredness. Vitamin D contributes to the maintenance of normal muscle function. Thiamine contributes to normal energy metabolism. Vitamin D contributes to the maintenance of normal muscle function. Vitamin C contributes to reducing fatigue and tiredness.
| | | | |
| --- | --- | --- | --- |
| Nutritional information | 100 g | Per bar (40 g) | *%NRV (100g/40g) |
| Energy | 1695 kj | 681 kj | |
| | 402 kcal | 162 kcal | |
| Fat | 11 g | 4,5 g | |
| of which acidi Fat saturates | 5,5 g | 2,2 g | |
| Carbohydrate | 49 g | 20 g | |
| of which sugars | 35 g | 14 g | |
| Protein | 26 g | 10 g | |
| salt | 1,1 g | 0,44 g | |
Fructose-glucose syrup - Isolated soy proteins (25%) - Milk chocolate (sugar, cocoa butter, milk powder, cocoa paste, whey powder (from milk), emulsifier: soy lecithin, vanilla extract) (23%) - Maltodextrin - Oat flakes (gluten-free) (3,4%) - Extruded corn flakes (corn, sugar, salt) - Isolated milk proteins (2,4%) - Cocoa butter - Sunflower oil - Bulking agent: polydextrose - Flavourings - Emulsifier: sunflower lecithin. May contain nuts, peanuts, sesame seeds.
We recommend 1-2 bars per day depending on the activity and taking into consideration other protein sources in the diet. Accompany with suitable water intake.