Friday, June 10th, 2022
The Maratona dles Dolomites according to Enervit: an increasingly sustainable reality.



A sustainable project needs credible allies. And so, to create the bag for the Maratona dles Dolomites – Enel 2022, Enervit teamed up with two important partners active in the field of fair trade activities: the Associazione Gruppi "Insieme si può" of Belluno, Italy and the Selyn cooperative of Sri Lanka, which is certified by the WFTO (World Fair Trade Organization).





A Sustainable Bag for Credible Sustainability


This led to the creation of a 100% cotton bag to be used and reused over and over again. Ecological and sustainable, it respects the rights of those who worked to produce it as well as the ecological spirit of the event's participants.
The result is a bag crafted entirely on handlooms by the men and women of Selyn – the cooperative which has operated in Sri Lanka since 1991 with the objective of providing its 1000 artisans with professional skills, healthcare support and steady employment. They met Enervit through the Associazione Gruppi "Insieme si può", an NGO that since its foundation in 1983 has been committed to fighting poverty that afflicts various areas of the world by developing local economic activities to support the community.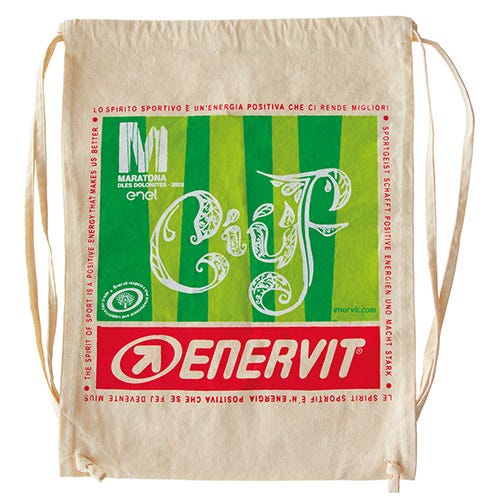 This initiative is special, like the relationship between Enervit and the Maratona dles Dolomites. "Enervit has been with the Maratona since its first editions," said Marina Petrone, Enervit's Corporate Strategy Director, "and in these thirty years together our sense of responsibility toward the environment and the community has grown thanks also to the spirit of this event. Respect for nature and the awareness of the athletes are values we've always shared with its President, Michil Costa, and so together we conceived this project with eco-friendly bags. Because the company and events can do a lot to spread messages of sustainability, both in general and in the world of sports. We at Enervit are committed to planning each new activity while thinking first of all of the value of people, of our collaborators, our consumers, the environment and the territory."
This environmental and social decision aligns with the values of the company, whose current challenge is to respect and valorize even further the planet and the people who inhabit it.
Enervit Isotonic Gel: New Eco-Friendly Opening

Enervit strives to always make a difference by helping to develop new solutions and innovative products that are growingly sustainable. The company is constantly committed to developing a credible approach to sustainability based on a series of concrete environmental and social actions that have an impact in both the short and long terms. One example of this is the new anti-littering pack for Enervit Isotonic Gel, which was designed with a specific technology that prevents parts of its packaging from being discarded into the environment when the product is opened and used.