EnerZona
SKU 92322
Order now! Shipping in 24/48h
The essential and pure omega 3 supplement, leader in the Italian market
- Dietary supplement of omega 3 fatty acids
- Contains EPA and DHA in a 2:1 ratio (200 mg of EPA and 100 mg of DHA)
- Certified by 3 international bodies (IFOS, ORIVO, and Friend of the Sea)
- A patented capsule with no residual taste
- Gluten-free
- Easy to swallow

IFOS 5 star certificate
It certifies the concentration of active ingredients, purity, and quality. EnerZona Omega 3 RX has achieved the highest score: IFOS 5 star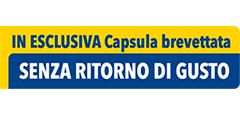 Entericare™ Technology
Patented NO AFTERTASTE capsule
Certified by Friends of the Sea
Guarantees the eco-sustainability of the production process from the extraction of the oil to its packaging.
Certified by Orivo
Guarantees the species and origin of the fish: only anchovies caught in the South Pacific are used.
Omega 3 fatty acids par excellence
Omega 3 are fatty acids defined as ᆴessentialᆵ because our body isn?t able to produce them by itself, but they are essential for the many benefits they bring to the body. They take care of the heart, eyesight, and brain, and they help to maintain normal triglyceride levels in the blood and normal blood pressure. Take them through the diet, or in case of reduced intake or increased need, take them through supplementation*.
A supplement in mini capsules of omega 3 fatty acids, EnerZona Omega3 RX is a product of excellence: it is highly certified, recognized for its quality and purity, the only one with a patented capsule that has no residual taste, and the leader of the Italian market* for 15 years.
The supplement EnerZona Omega3 RX has an optimized dosage of EPA and DHA in a 2:1 ratio in mini capsules of 0.5 g to allow you to take it in a practical and fast way.
A daily help for your body
We at EnerZona have long known the properties of omega 3 and our researchers have created a cutting-edge dietary supplement: EnerZona Omega3 RX, which helps meet the need for these fatty acids in case of reduced intake or increased need. It only takes a few capsules to achieve the levels of EPA and DHA that help you get these benefits:
- 1 mini capsule per day provides EPA and DHA in amounts helpful for normal heart function.
- 3 mini capsules per day provide DHA in amounts helpful for maintaining good brain function and vision.
- 7 mini-capsules per day provide EPA and DHA in amounts helpful for maintaining normal blood triglyceride levels**.
- 10 mini capsules per day provide enough EPA and DHA to help maintain normal blood pressure**.

*Supplements should not be taken as a substitute for a varied and balanced diet. It?s recommended to follow a varied and balanced diet and a healthy lifestyle and to follow directions for use and warnings on the label.
| | |
| --- | --- |
| Average content | Per 3 minicapsule |
| Omega 3 | 1,125 g |
| of which EPA | 600 mg |
| of which DHA | 300 mg |
| other Omega 3 | 225 mg |
Fish oil standardized in Omega 3 (75%) - Dietary Gelatin - Resistance agents: glycerol, pectin, calcium chloride - Antioxidants: tocopherol-rich extract, L-ascorbyl palmitate, rosemary extract.
You can take from 1 (EPA 200 mg, DHA 100 mg) to 10 mini capsules (EPA 2 g, DHA 1 g) per day depending on your specific EPA and DHA needs. For those who follow the Zone dietary strategy, the recommended daily dose is 8 mini capsules, which provide about 2.5 g of EPA and DHA per day.