Maximize the carbohydrate intake per unit of time
By Elena Casiraghi

Increasing carbohydrate intake per hour – this has long been the request of top athletes. From cyclists, who face increasingly demanding race conditions, to cross country skiers, who need to introduce highly digestible energy during the act of skiing, to mountaineers, who need to minimize bulk. The disciplines change, but the need is always the same.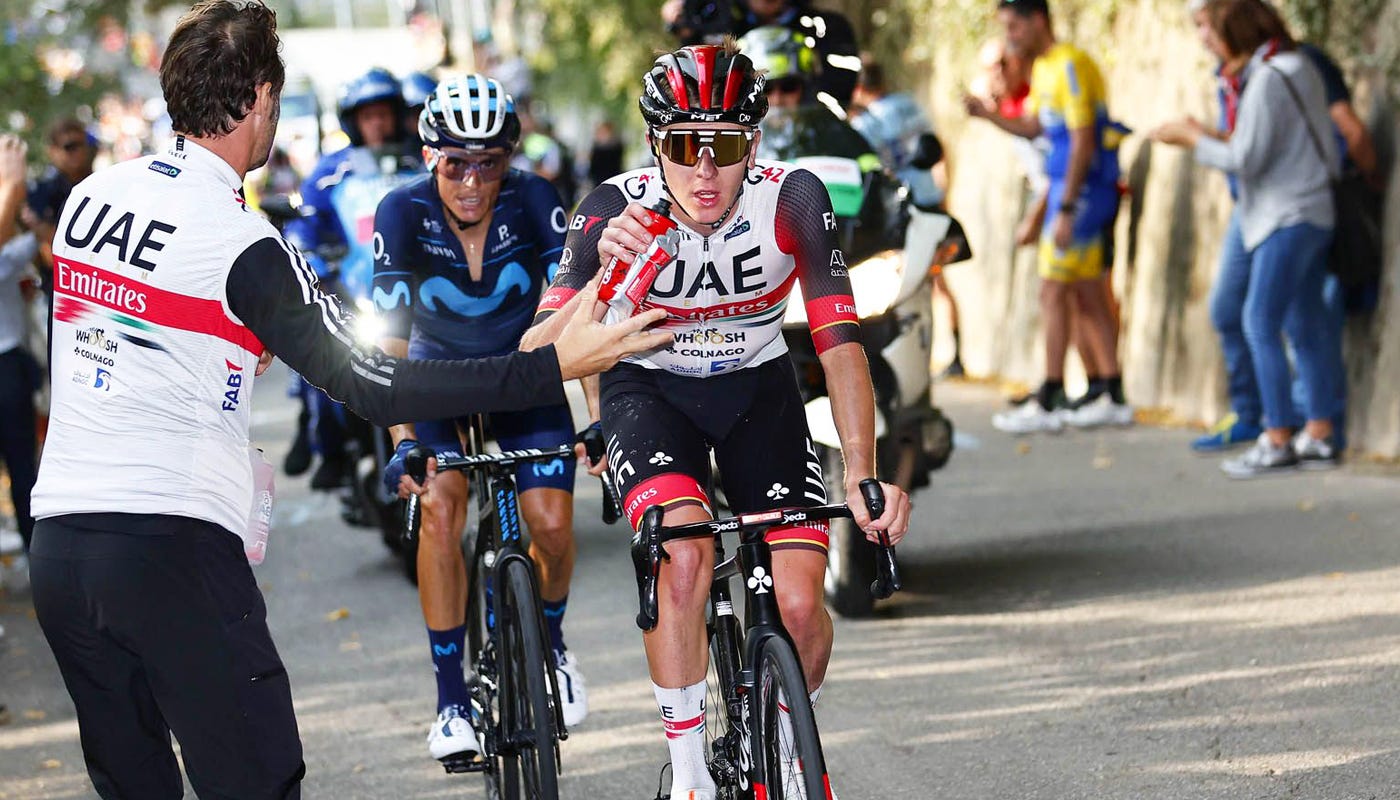 Carbohydrate consumption in sports: guidelines

What is the ideal amount of carbohydrates to consume during sports activities? The science speaks for itself. According to the American College of Sports Medicine (ACSM), the optimal intake ranges from 30 to 60 g of carbohydrates per hour during an endurance race lasting between 60 and 120 minutes, to more than 90 g per hour when the effort is very intense and lasts more than three hours. These guidelines are aimed at preserving the body's reserves and promoting performance, because carbohydrate intake during exercise can improve performance.
Based on these premises, the experts at Equipe Enervit have worked closely with athletes from various competitive disciplines and with their nutritionists and trainers. Testing during road racing in recent years has, for example, shown that professionals in the toughest mountain stages need up to 100-120 g of carbohydrates per hour.
The perfect formula


Just like a sports car, the "engine" of a champion needs a "special fuel" to allow it to "run" at full speed. The main difficulty lies in the ability to assimilate such high amounts of carbohydrates without overloading the gastro-intestinal system. In fact, there is a physiological limit. In order to be assimilated by our body, any carbohydrate is transformed into glucose, which is the "transporter" that allows its assimilation and can metabolize a maximum amount of 60 g per hour. Should larger amounts be introduced into the body, these not only aren't assimilated, but they remain in the intestines, where they overload them and cause gastric problems.
However, there is another carbohydrate, fructose, which is the only one that is assimilated by a different transporter, which has an "additional capacity" of 30 g per hour. The solution to the problem, in theory, was achieving the precise combination of glucose and fructose. After numerous tests, we focused on the specific glucose-fructose combination in a 2:1 ratio, i.e., a mixture of two parts glucose (in the form of maltodextrins because they are less sweet and more digestible) and one part fructose, the optimal ratio that's the most assimilable and performant.
Enervit C2:1PRO, feedback from the pros


Enervit's new C2:1PRO formula has been applied to different types of products and has been field-tested by various professional athletes – among them by cyclists from the UAE Emirates and Trek-Segafredo teams, members of the Italian National Cycling Team, the mountaineer, Hervè Barmasse, and in cross country skiing, the Team Ramudden. We received clear and direct feedback, such as that of two-time Tour de France winner, Tadej Pogačar (UAE Team Emirates): "We were happy with the taste, the energy intake, and the digestibility. I think the C2:1PRO formula is another building block to help us achieve better results." . Elisa Longo Borghini (Trek-Segafredo), 2022 Paris-Roubaix winner, remarked: "This line satisfies the need for a high carbohydrate intake at times when we are really going full gas, without digestive problems. I have a particular fondness for candy (the "carbo chews", Ed)!".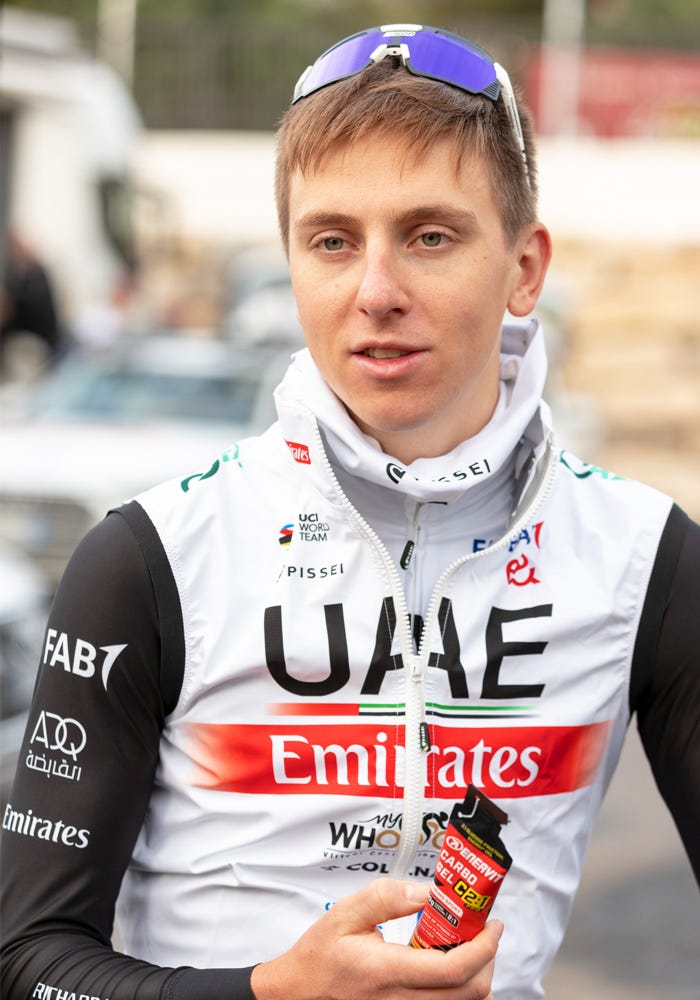 Support for endurance and high intensity performance


Lots of carbs in a few bites, or sips. Enervit's new C2:1PRO line is the first complete line of supplements based on this carbohydrate blend: chewable gummies, soft candies, powders to dissolve in water, bars, and gels.
With Enervit C2:1PRO athletes can overcome 60g carbs/h and reach 90g/h or more, with these benefits:
Maximizing carbohydrate absorption
Minimizing intestinal stress risk
Mild sweetness
A wide variety of textures and formats ("taylor made " strategy")
It's up to the athlete to choose the preferred products to achieve the ideal amount of carbohydrates as practical support for endurance and high intensity performance. "In the last few years, the consumption of carbohydrates per hour of racing has progressively increased," explained Matteo Trentin, UAE Emirates athlete: "from 30 g per hour to 40 g, to 50 g, to even 100-120 g per hour. It's a bit like eating a plate-and-a-half of pasta every hour of the race without weighing ourselves down."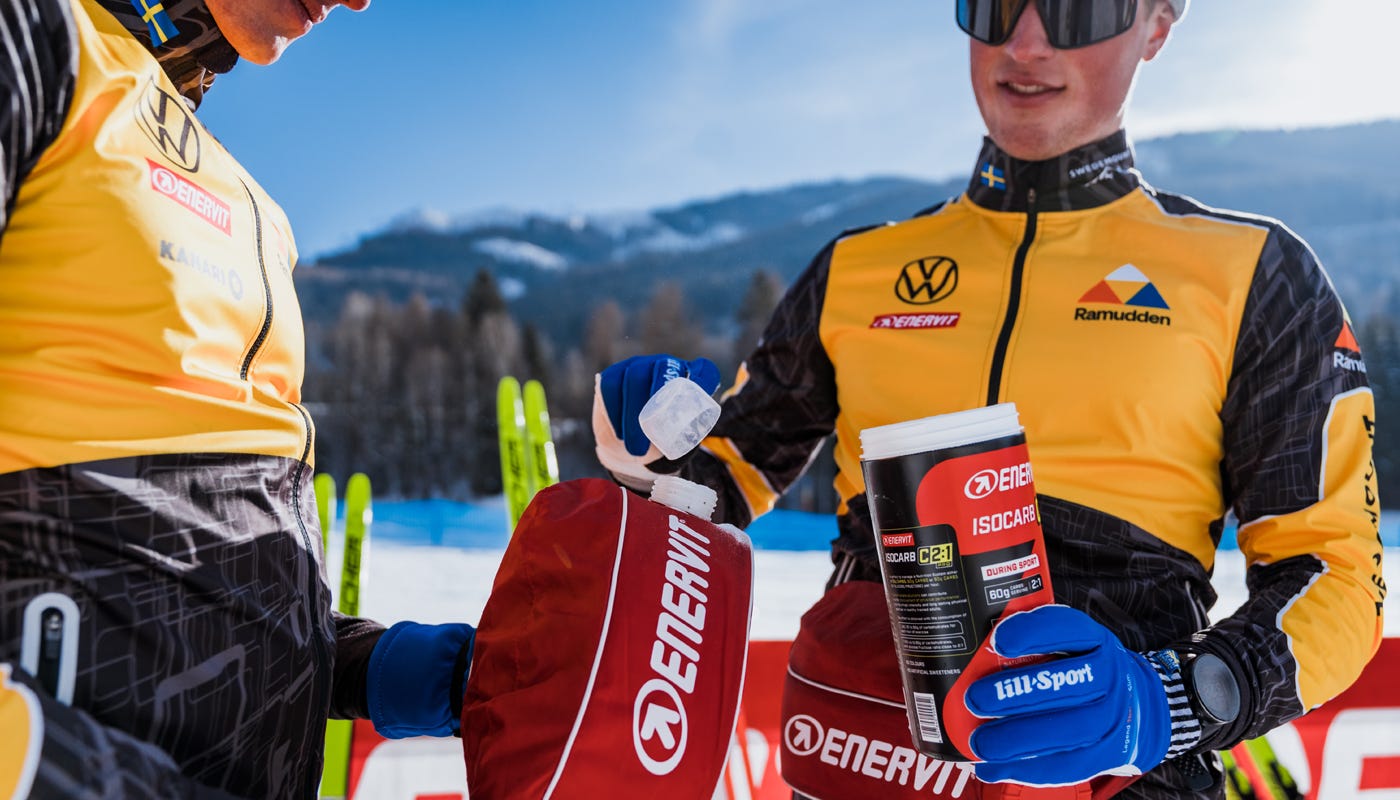 Training the muscles but also the stomach


Such carbohydrate intake can only be achieved by training the stomach as well. Stressing this is Stephanie Scheirlynck, nutritionist for Trek-Segafredo: "Thanks to Enervit, we can now take in much higher amounts of carbohydrates. Our team sometimes only uses 30 g per water bottle, sometimes up to 60 g. Under special conditions, for example in the classics, where the weather is harsh, we use as much as 90 g of carbohydrates. This is fine, as long as you train yourself to absorb these amounts. Same as you train your muscles, it's essential to train your stomach as well.".
Enervit: science to support all athletes


The ultimate goal of every athlete at any level is to constantly improve. Today we put a new "weapon" in the hands of athletes who want to increase their performance.
The Enervit C2:1PRO line is dedicated to those who pay attention to every detail. If improvising a race doesn't lead to improvement, it's the same with nutrition. That's why you need to advance gradually, learning to take advantage of more intense workouts to get used to absorbing greater amounts of carbohydrates. Your efforts will be rewarded by the possibility of reaching the next level.
Happy training!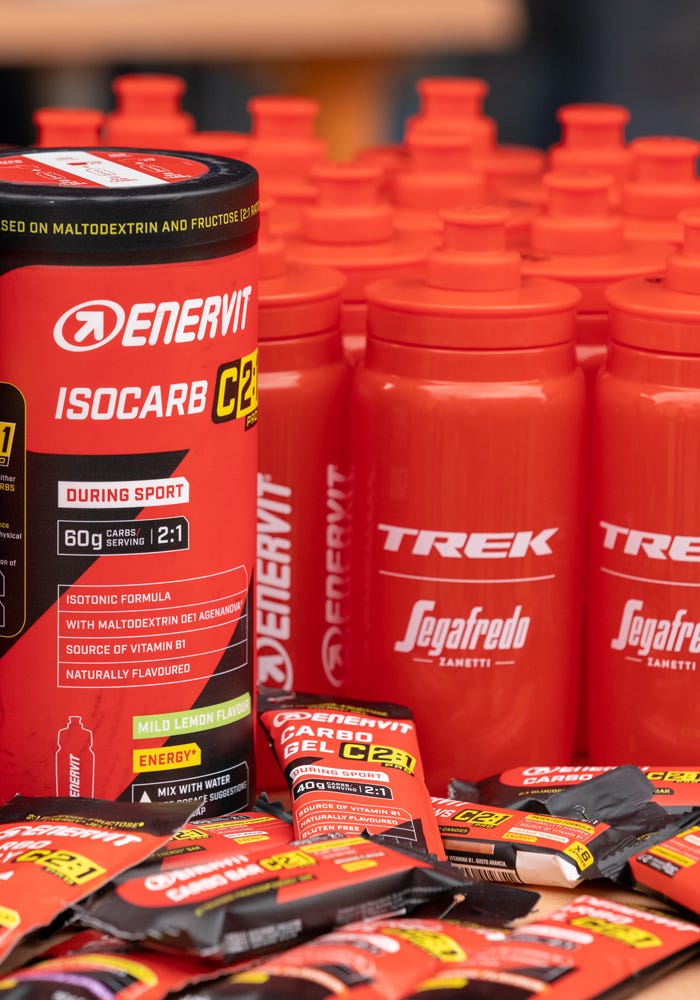 BIBLIOGRAPHY
Rowlands D.S., Swift M., Ros M., Green J.G. Composite versus single transportable carbohydrate solution enhances race and laboratory cycling performance. Appl. Physiol. Nutr. Metab. vol. 37, 2012.