EnerZona
SKU 91284
Order now! Shipping in 24/48h
Il preparato per pancakes bilanciati, senza zuccheri aggiunti.
- Ricetta bilanciata 40-30-30
- Ricchi in proteine e fibre
- Senza zuccheri aggiunti*
- Senza aromi
- Senza glutine
- 1 COLAZIONE = 2 PANCAKES = 2 BLOCCHI


Balance 40-30-30
Un prodotto studiato per chi segue la dieta Zona e per chi predilige un'alimentazione bilanciata.
Con proteine del latte
Scelte per il loro ottimo profilo nutrizionale.
Semplici e velocissimi da preparare
Bastano pochi minuti per preparare la tua colazione bilanciata in Zona!
I pancakes EnerZona dalla ricetta esclusiva e bilanciata
EnerZona Balanced Pancakes è il preparato per soffici pancakes bilanciati 40-30-30, ideale sia per chi segue la dieta Zona sia per chi dà valore a un'alimentazione bilanciata, grazie alla sua formulazione perfettamente bilanciata nei macronutrienti (il 40% delle calorie proviene dai carboidrati, il 30% dalle proteine e il restante 30% dai grassi).
Sono i primi pancakes ad essere perfettamente bilanciati secondo i principi della dieta Zona. Alla base hanno una formulazione unica e innovativa, ricca in proteine e senza glutine, che vanta pochissimi ingredienti tutti di alta qualità.
*contiene naturalmente zuccheri.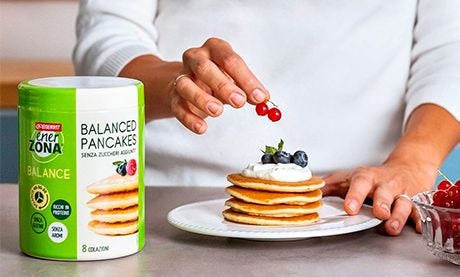 Oggi dolci, domani salati.
Fare una colazione ricca e bilanciata nei macronutrienti è il modo migliore per iniziare al meglio la giornata. Con EnerZona Balanced Pancakes puoi prepararti in pochissimi minuti.
Sono perfetti sia per gli amanti del dolce che del salato. Per questo, ti proponiamo due semplici e buonissimi versioni:
- Dolce: guarnisci 2 Pancakes EnerZona con 80 g di ricotta vaccina e 15 g di confettura extra di fragole.
- Salata: guarnisci 2 Pancakes EnerZona con 30 g di prosciutto cotto sgrassato, 25 g di pomodorini secchi e 3 mandorle tritate.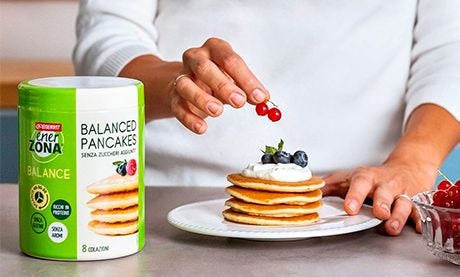 Nutritional information
per 100g 
2 pancakes cotti (4 cucchiai, circa 40g, in 60ml di latte intero)
Energy

1694 kJ
403 kcal

840 kJ
200 kcal
Fat
12 g
6,8 g
of which acidi Fat saturates
7,1 g
4,3 g
Carbohydrate
37 g
18 g
of which sugars
22 g
12 g
fibers
3,3 mg
1,3 g
Protein
35 mg
16 g
salt
2,74 mg
1,25 g
Latte intero in polvere - Proteine del latte (proteine del latte, emulsionante: lecitine) (22%) - Amido di riso - Banana in polvere - Albume d'uovo - Fibra d'acacia - Sale - Agente lievitante: carbonati di sodio. Può contenere tracce di soia e frutta a guscio.
MODALITÀ DI PREPARAZIONE per 2 pancakes (= 2 BLOCCHI): 1. In una ciotola unire 60 ml di latte intero con 40 g di preparato (circa 4 cucchiai) e mescolare con una frusta. 2. Versare l'impasto in una padella antiaderente precedentemente riscaldata dividendolo in due parti per ottenere 2 pancakes. 3. Cuocere a fuoco medio-basso fino a che il pancake non si stacca facilmente dalla padella (circa 2 minuti). 4. Girare il pancake e ultimare la cottura (altri 2 minuti circa).